Dutch Garage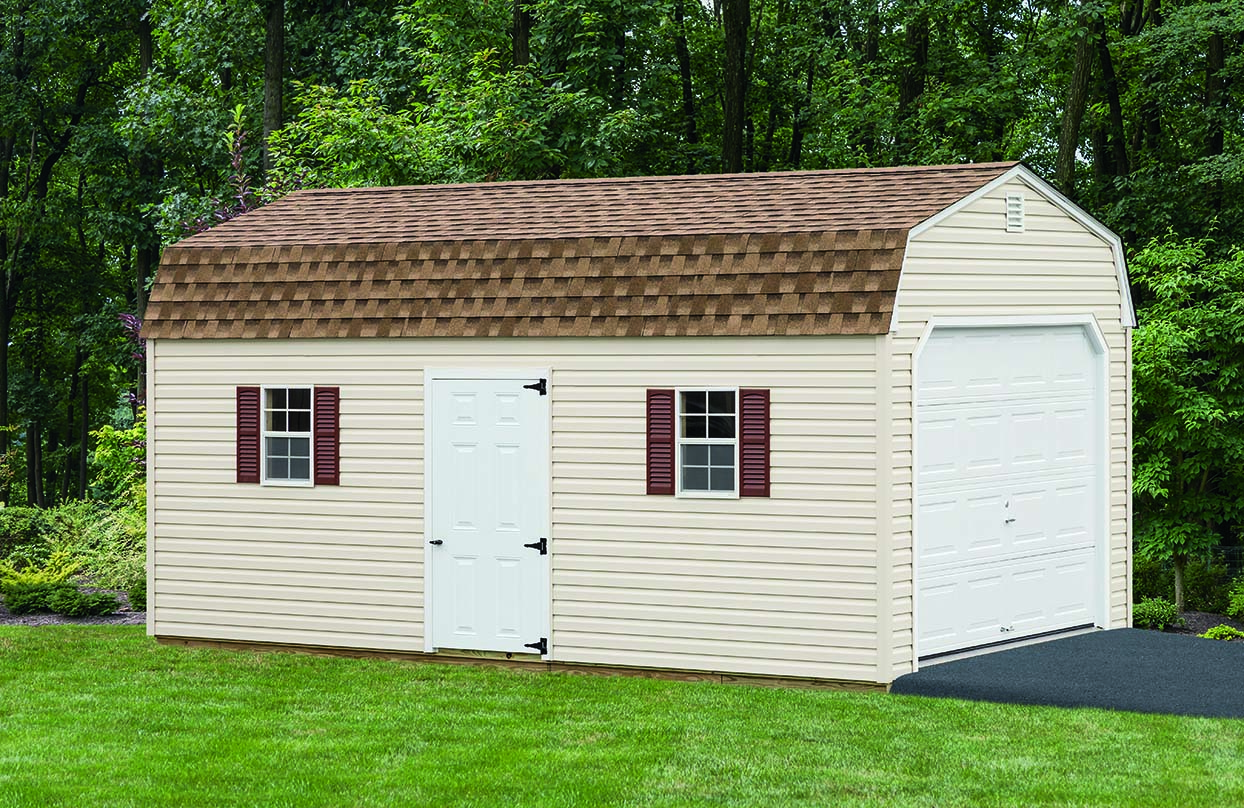 This Dutch Barn Garage is shown as a 12 x 20 with Almond Vinyl siding, white trim, tan shingles.
This building is ideal for adding a loft area for even more storage.
The Dutch Barn Garage is built with 7′ walls, all 2×4 construction with 12" on center pressure treated floor joists. The  Dutch Barn Garage comes standard with LP T111 wood siding, or vinyl siding, lifetime permatrim, a man door, a 8′x6′ 6" or a 9′x7′ garage door, two gable vents and two 18x27 windows with shutters and many colors to choose from. You have the option to add more windows along with many other options. We can also custom build any size garage. Please give us a call if you do not see the size you would like in the list below.
| Size | Vinyl | Painted T111 |
| --- | --- | --- |
| 10x10 | $4,694 | $3,936 |
| 10x12 | $5,018 | $4,260 |
| 10x14 | $5,340 | $4,557 |
| 10x16 | $5,690 | $4,894 |
| 10x18 | $6,065 | $5,244 |
| 10x20 | $6,521 | $5,659 |
| 12x12 | $5,644 | $4,769 |
| 12x14 | $6,061 | $5,120 |
| 12x16 | $6,504 | $5,459 |
| 12x18 | $7,090 | $5,954 |
| 12x20 | $7,559 | $6,306 |
| 12x22 | $8,200 | $6,841 |
| 12x24 | $8,799 | $7,349 |
| 12x26 | $9,386 | $7,832 |
| 12x28 | $10,181 | $8,523 |
| 12x30 | $10,794 | $9,032 |
| 12x32 | $11,250 | $9,384 |
| 12x34 | $11,839 | $9,866 |
| 12x36 | $12,791 | $10,714 |
| 12x38 | $13,468 | $11,287 |
| 12x40 | $14,168 | $11,884 |
| 12x42 | $14,818 | $12,430 |
| 12x44 | $15,495 | $13,003 |
| 12x46 | $16,272 | $13,676 |
| 12x48 | $16,920 | $14,220 |
| 12x50 | $17,697 | $14,893 |
| 14x20 | $8,469 | $7,189 |
| 14x22 | $9,499 | $8,054 |
| 14x24 | $10,456 | $8,980 |
| 14x26 | $11,265 | $9,680 |
| 14x28 | $12,065 | $10,381 |
| 14x30 | $13,034 | $11,183 |
| 14x32 | $13,967 | $12,002 |
| 14x34 | $14,747 | $12,719 |
| 14x36 | $15,571 | $13,416 |
| 14x38 | $16,477 | $14,195 |
| 14x40 | $17,264 | $14,855 |
| 14x44 | $18,357 | $15,695 |
| 14x46 | $19,327 | $16,538 |
| 14x52 | $20,295 | $17,379 |