Colonial Garage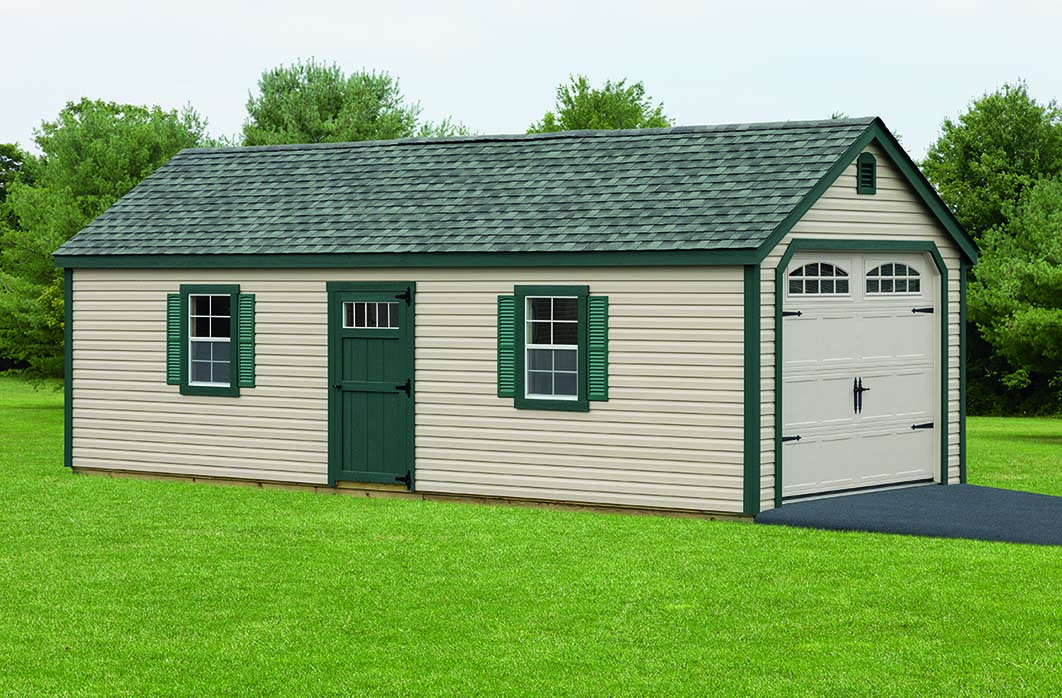 This Colonial Garage is shown as a 12×28 with our New England upgrade package with tan vinyl siding, green trim, green doors, and slate shingles. This building is also shown with the following upgrades, a carriage style garage door with windows and decorative hinges, and a ridge vent.
The Colonial Garage is built with 7' walls, an 8/12 pitch roof, and 2×4 pressure treated floor joists 12" on center. The Colonial Garage comes standard with, LP T111 wood siding or vinyl siding, a 9'x7' garage door, two gable vents, two windows with shutters and a 36" x 72" man door.     All 10 ft wide Garages get an 8x6'6" high garage door.
The New England package includes a man door with a transom window, wide wood roof line trim, larger roof over hangs,  arched vents, wood corners and larger decorative hinges.
You can also add more windows along with many other options. We can also custom build any size garage. Please give us a call if you do not see the size you would like in the list below.
Please call for delivery prices on the 14 ft wide units, as the height may require us to build on site.
| Size | Vinyl | Painted T111 |
| --- | --- | --- |
| 10x10 | $4,668 | $3,910 |
| 10x12 | $4,952 | $4,194 |
| 10x14 | $5,236 | $4,453 |
| 10x16 | $5,533 | $4,737 |
| 10x18 | $5,856 | $5,035 |
| 10x20 | $6,260 | $5,398 |
| 12x12 | $5,513 | $4,638 |
| 12x14 | $5,969 | $5,028 |
| 12x16 | $6,465 | $5,420 |
| 12x18 | $6,998 | $5,862 |
| 12x20 | $7,416 | $6,163 |
| 12x22 | $8,018 | $6,659 |
| 12x24 | $8,590 | $7,140 |
| 12x26 | $9,190 | $7,636 |
| 12x28 | $9,972 | $8,314 |
| 12x30 | $10,402 | $8,640 |
| 12x32 | $10,872 | $9,006 |
| 12x34 | $11,473 | $9,500 |
| 12x36 | $12,400 | $10,323 |
| 12x38 | $13,024 | $10,843 |
| 12x40 | $13,661 | $11,377 |
| 12x42 | $14,311 | $11,923 |
| 12x44 | $14,960 | $12,468 |
| 12x46 | $15,609 | $13,014 |
| 12x48 | $16,259 | $13,559 |
| 12x50 | $16,909 | $14,105 |
| 14x20 | $8,312 | $7,032 |
| 14x22 | $9,370 | $7,975 |
| 14x24 | $10,286 | $8,810 |
| 14x26 | $11,100 | $9,515 |
| 14x28 | $11,882 | $10,198 |
| 14x30 | $12,714 | $10,863 |
| 14x32 | $13,575 | $11,610 |
| 14x34 | $14,240 | $12,212 |
| 14x36 | $15,179 | $13,024 |
| 14x38 | $15,970 | $13,688 |
| 14x40 | $16,820 | $14,411 |
| 14x44 | $17,914 | $15,252 |
| 14x46 | $18,880 | $16,094 |
| 14x52 | $19,851 | $16,935 |